Sometimes it can be difficult to know where to begin when choosing which skirting boards style will suit your home. Some just take the easy option and go for what everybody else has or just renewing the existing style. Others spend ages scouring specialist skirting board manufacturers like ourselves to try and find one that's just right.
We thought we'd try to make things a little easier by showing you some of our most popular styles, purchased by people like yourself who left great reviews for which we are very grateful.
Let's not delay any further and get on with the list.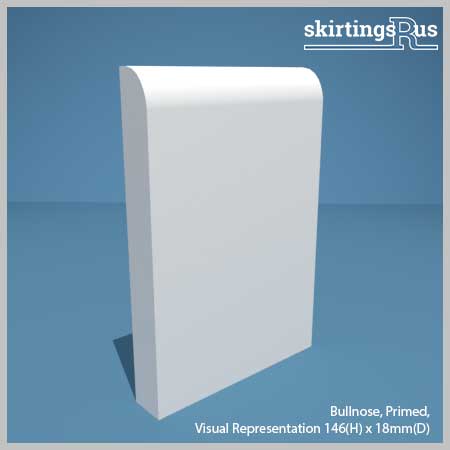 It's no surprise to manufacturers and tradespeople that Bullnose is the most popular skirting board.
That might cause a double take for anyone not familiar with the industry, but there is one very good reason for its ubiquity, simplicity.
Like any good design that you end up seeing everywhere, its simplicity leaves it open to interpretation. One person might see the gentle curve as a no-fuss, unobtrusive design, whilst another might see a quiet elegance. This allows it to fit in anywhere
In practical terms it is very easy to paint and keep clean, another good design feature.
Altogether, the Bullnose profile becomes a very versatile skirting board style by doing very little at all!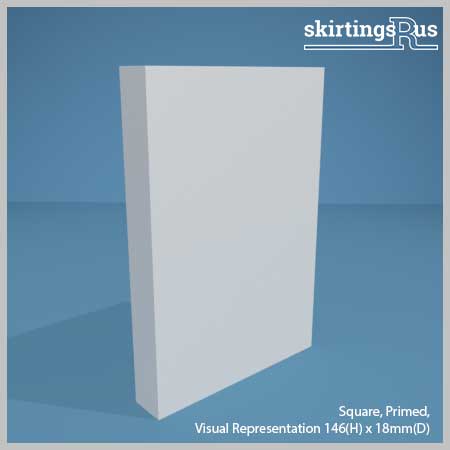 The Square design may be the most basic skirting profile you can get but that doesn't mean it has no merits.
It benefits from many of the good points that apply to the Bullnose skirting, however it creates it a different look and feel.
Having a straight edge gives a sharp, clean line favoured by a lot of modern interior designs. This makes one of the oldest skirting board styles one of the most contemporary!
The advantage that a lot of these simple designs have is that when it comes to joining them at corners, generally with a mitre joint, is how easy it is to cut them. The more detail in the profile, the more precise you have to be to ensure the join is flush.
With the rise of contemporary designs in apartments and new homes the Square Skirting Board has found its niche.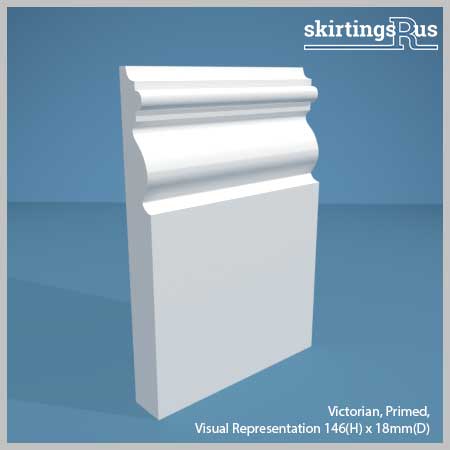 The first of our more detailed skirting boards on the list, as you might guess the Victorian profile is inspired by the boom in skirting board usage during this era.
Before this time skirting boards were just functional and mainly used with wall panelling in grander homes, but the emergence of the middle class during the Victorian period meant that they wanted their homes to look grander than they were and whilst they may not have been able to go for wood panelling, a high skirting around the walls (along with coving, dado rail and picture rail) gave them an affordable, upmarket look.
Victorian skirting boards are still popular simply because so many homes from the era have stood the test of time and many homeowners want to recreate the period feel, perhaps because so many features were ripped out during the eighties and nineties home renovation boom and replaced with something else.
Also, there are many larger new builds where designers or owners have decided to embrace the period aesthetic out of personal taste.
We also offer a large version of the Victorian for properties with bigger rooms, function halls or lobbies among other things.
I'm sure there are many more reasons why Victorian style skirting remains a bestseller, so if you're looking for a more detailed design, this is a good place to start.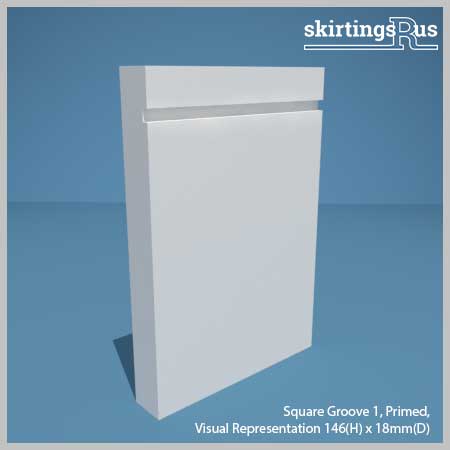 From the old to the new! The traditional square edged skirting board has found a new audience in recent years with the addition of a single 5mm (H) x 5mm (D) groove to the board.
With the original already being a favourite in contemporary interior designs the groove gives something different to those who still want those sharp lines.
The groove also offers some interesting design opportunities as we've seen people highlight the groove by painting it a different colour, adding decoration and even LED strip lights!
This versatility is probably one of the reasons for its place so high in this list. We'd love to see what you do it with it so don't forget to send us pictures on social media!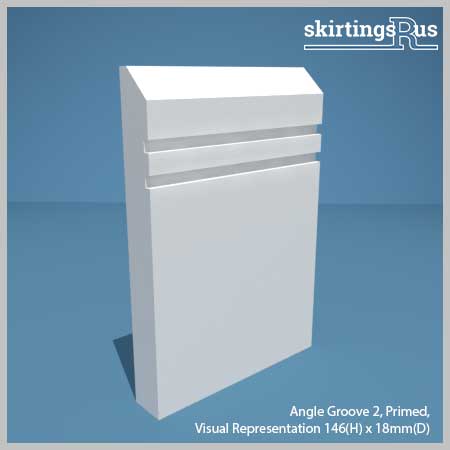 Dominating the top five, this is the third contemporary style and the second grooved skirting board.
Similar to the Square Groove, the Angle Groove 2 skirting board just takes the previous product and shaves off the facing edge at a 45° angle and adds another groove.
The great thing about our grooved products, especially with the angled edge, is that you can match them with the corresponding architrave and it creates a great effect with the continuous detail flowing from the skirting, around the doorway and back down again.
All of our grooved skirting boards come the option of 1, 2 or 3 grooves along the face of the board. You'll be surprised at the different look and feel each gives.
Perhaps with so many of our bestsellers being modern designs this says something about the styles people are favouring currently?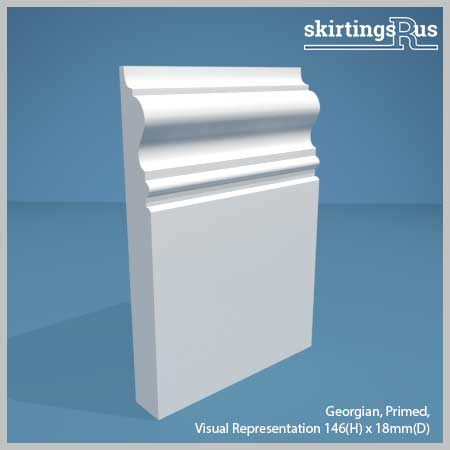 The Georgian is another of our period skirting boards.
This profile follows the Georgian fascination with classical architecture and makes a room a little grander. For the full effect you'd need to get a tall board, but if you'd don't have high ceilings the skirting may then dominate the room.
Even if you don't live in a period property, you can still give your home that traditional feel with something like the Georgian. Why not check out the rest of our period skirting boards to see if there's one that suits you.
It's good to see a little variety with these more detailed and elegant skirtings and you're spoiled for choice with our range.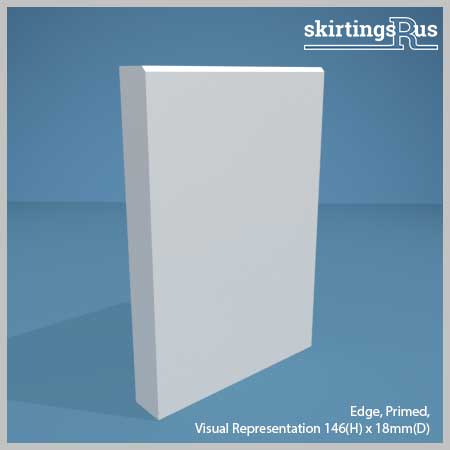 If you're looking for something similar to the Square skirting board but don't like the sharp edge, then this is for you!
Again, we've taken 45° of it, similar to the Angle group of products, but only 2mm deep! This give a blunter edge which appeals to many of our customers.
Its simplicity makes it versatile and if it's going to be hidden by furniture then the dulled edge means it isn't going to catch on anything.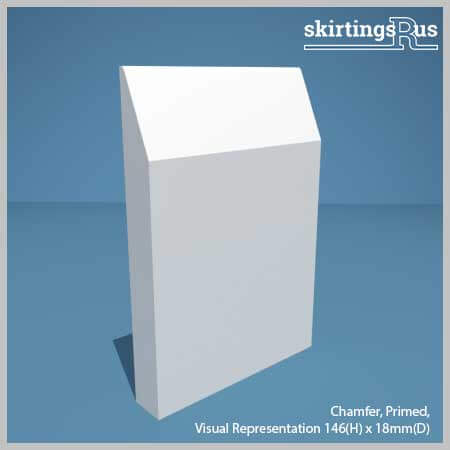 If you're looking for something similar to the Square skirting board but don't like the sharp edge, then this is for you!
This is the last of our simple designs featuring straight lines and edges.
I think it says a lot that many people, especially tradespeople go for skirting that is functional and doesn't detract from other features in the home.
Why is this? Probably because more detailed skirting is generally down to personal taste and unless someone pays attention to these small details, they are generally happy with a skirting board that does the job.
That said, the chamfer does give a raised effect when installed, making the flat face of the board look like it is flowing from within the wall.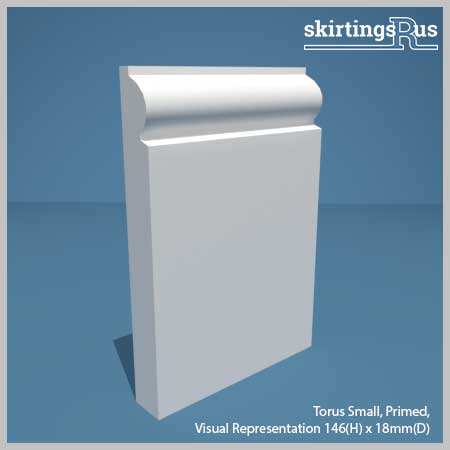 Our Torus skirting board is another of those traditional skirting board designs that inspires so many of our other styles.
The Torus itself refers to the large rounded detail on the profile which is taken from classical architecture where certain orders of columns had a semi-circular base on the plinth.
This reference to a grander history is often overlooked when considering this style because it has become so ubiquitous. When skirtings were often used with cornicing (which was eventually simplified to become coving) it gave Victorian walls the effect of these historic columns.
The small version of this design works better on shorter boards because the detail is so small. However, this is great for small apartments, flats or compact houses or where fixtures such as plugs, broadband lines etc. limit the height of your skirting.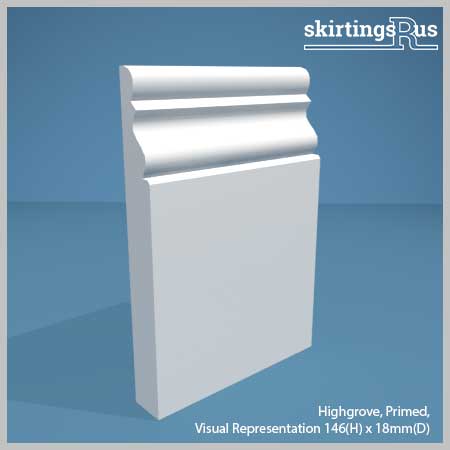 If you want to add a bit of class to your room then the Highgrove profile is a great choice.
Designed to offer something for period and contemporary interior designs this has pushed it onto the list.
The detailing and curves give the traditional feel that many want for their home, whilst the sharp edge cutting through the softness and the avoidance of too much detail means that it gives a different twist to those searching for a more modern style.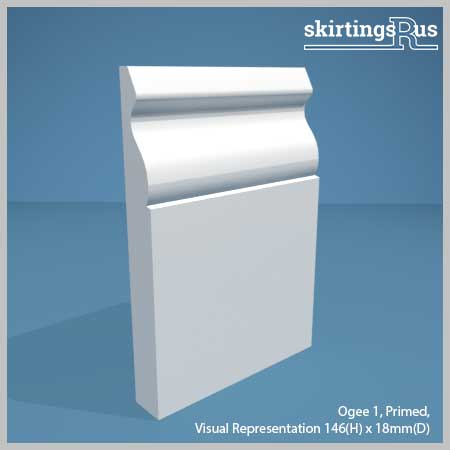 Here we have another of what we refer to as 'trade staples' because they tend to be used in new homes or are part of the limited range at big DIY retailers.
Whilst some Ogee designs have more detailing lending themselves to a more traditional interior design scheme (our Ogee 2 is done in this style), this version is much sleeker and gives you an option for some softness in a modern home.
Again, simplicity is the common theme that runs through many of these top products, however, this doesn't mean that a more detailed style isn't on trend, just that it is a more individual choice according to taste which is why we offer so many options.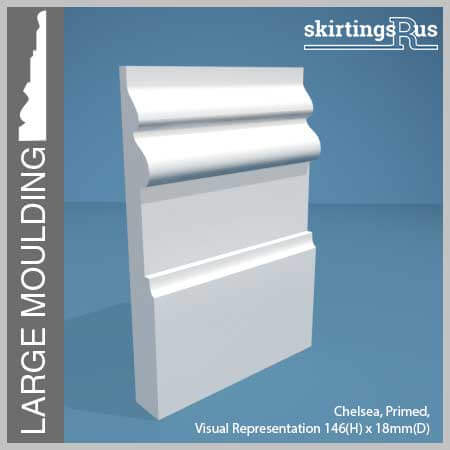 A special shout out goes to one of the most popular of our large skirting boards. The Chelsea typifies the grandeur that our large skirting profiles offer.
This type of skirting, where the detail is larger than a regular skirting board, suits taller heights and is usually used in big rooms and spaces.
Because of the more elaborate detailing it does look more at home in a period property, especially where you have the benefit of high ceilings, but if you feel it's right for your home don't feel limited by how others have used it in the past!
Find your perfect skirting board
Well, that's our introduction to the most popular skirting board styles as decided by our customers. We hope it's given you a start to go and explore further and find what works for you!